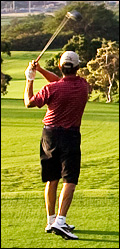 This year the
HGCSA Annual Golf Tournament
will be held on September 19, 2013 at the Hawaii Prince Golf Club. Shotgun start is at 11:00 a.m. with a banquet and reception to follow. This year's event will feature over $5,000 in prizes. A special grand prize drawing for HGCSA members will also be awarded to the lucky winner.
A low gross champion, as well as competitors in three flights will be crowned, so reserve your spot in this tournament early. Entry fee is $60, and is due NLT August 16, 2013.
The
Seminar
will be held Friday, September 20, 2013 at the Hawaii Prince Hotel 8:00a.m. to 4:00p.m. and the topic will be Herbicides Presented by Fred Yelverton, Phd. NC State Professor & Extension Specialist Co-Director, Center for Turfgrass Environmental Research & Education.
CLICK HERE to download a printable Superintendent's Entry Form
CLICK HERE to visit on-line Tournament registration page.
CLICK HERE to visit on-line Seminar registration page.