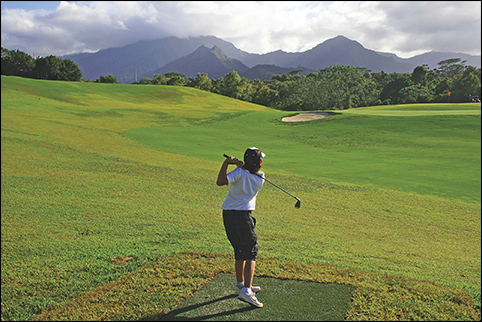 The scenery alone at Prince Golf Club on the Hawaiian island of Kauai makes for experiences usually seen in watercolor paintings or on the big screen.
There is a rain forest on the property. Jungle. Rivers. The waterfall that comes out of a lava tube behind the 13th green by itself is breathtaking. For director of agronomy Derrick Watts, being able to work at a location most others would call a vacation destination is quite the perk.
"It is unbelievably beautiful and an architectural marvel," says Watts, a 14-year GCSAA member. "For those who play the course, it is more a journey than a round of golf."
Prince GC, on Hanalei Bay in Princeville, may look familiar. More than 50 years ago, its beauty was amplifed in scenes shot on location for legendary duo Richard Rodgers and Oscar Hammerstein's musical "South Pacifc." If anything, the flm served as a launching point for the island being viewed as the place to be for romance and charm.
In his own way, Watts has helped make the golf experience a land of enchantment.
A player development program that was initiated 16 months ago at Prince by a combined effort from the management team has been a big hit. As of June, more than 600 people have tried the program, which consists of a six-hole pitch and putt. Each afternoon, the driving range is cleared to make way for the Mini Prince Par-3 that opens at 4 p.m. Holes on the family-friendly course range from 48 to 91 yards and include an 8-inch-diameter cup to try to increase playability and enjoyment. It takes about 30 minutes to play, allowing each guest a chance to play six, 12 or 18 holes.

Watts and his crew mow the fairways twice a week and the roughs once weekly; they also verticut and fertilize the six-hole facility to keep it in top condition. He is thrilled by the response.
"This has come out 10 times better than I had hoped," Watts says. "The beneft for me is in the afternoon, driving up there and seeing so many people, families, enjoying it. For $15 you can play it as much as you'd like. That's a pretty good deal. I think we will see more children take up the game because of something like this."
Watts isn't a native of Hawaii, but has spent more than a decade off the mainland, having gradually worked his way west. He grew up in the small town of Berthoud, Colo., located about halfway between Denver and Fort Collins. He developed a passion for golf, frst working at Grand Lake (Colo.) Golf Course. Watts laughs when recollecting the beginning.
"My frst day they asked, 'Do you have any questions?' I said, 'How do you keep the grass so low?' They said, 'You'll fnd out.' I was given a walk mower real soon," says Watts, who earned a degree in horticulture with a specialty in turfgrass management at Montana State University. He served as superintendent at Kapalua Resort from 2007 to 2011 before coming to Prince, where the course was undergoing a renovation.
On a course that features ocean views and is perched on a 70-foot cliff, Prince GC's main challenges for Watts include dollar spot on paspalum and maintaining an ever- encroaching jungle year round. They receive 85 inches of rain annually, much of that coming December through February.
Challenges aside, Watts talks like Prince GC is exactly where he wants to be. People ask him all the time if he is interested in leaving Hawaii and returning to Colorado or someplace else on the mainland. For now, he has no plans to leave. The Mini Prince Par-3 is one of the reasons why he is pleased to remain part of an initiative that he feels is much needed at a spot in which exotic choices abound.
"We have an activity for the whole family that lets them have fun and get in touch with the game," Watts says. "I'd never really been involved in something like this. We have something important to offer. I'm proud of that." — Howard Richman, GCM associate editor