Hawaii Golf Course Superintendents Association News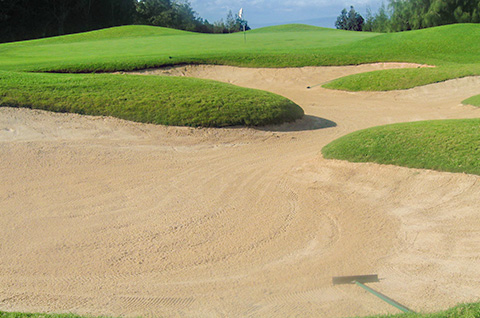 Historically bunker sand for Hawaii Golf Courses have been varied and somewhat inconsistent
The most consistent source of local sand is Coral Sand (Calcareous). Maui Dunes Sand, although its long term availability, remains in question at this time; tends to work well in environments where this sand is abundant on the golf property. Courses like Maui Lani, Pukalani, Maui Country Club and Wailua Blue are primary examples. Inland Beach sand (Mokuleia) from the North Shore of Oahu, when available, is our third and generally, least available local sand for bunkers.
Conditions — Limitations and Characteristics of these three local sands
Hawaii has few native sources for bunker sand. Each of the three sand noted are classified as Calcium Carbonate or Calcareous sand. They are what remain of the original organic organism that once flourished as coral reefs around our islands. Each material, as a bunker sand have one similar characteristic, over time and combined with moisture and pressure they will compact and harden!
Most abundant is 'Coral Sand or Greenside Bunker Sand' currently sourced from the leeward side of Oahu this quarry was once the primary source for Lime Sand used in the manufacture of Cement (powder). This quarried coral rock is crushed into finer aggregate sizing and into sand for making concrete or for golf bunker's. Because of its characteristic calcium content "Very High", this sand tends to compact and harden to a solid surface within several weeks to a few months; example, the beach area, surrounding the Duke Kahanamoku Lagoon at the Hilton Hawaiian Village in Waikiki. The maintenance required to achieve acceptable playability with aged in-place coral sand is extremely labor and equipment intensive.
Second most available is Maui Dunes Sand presently available on Maui and exported to Oahu for making concrete. This once highly abundant local calcareous sand has, over time, become a finer particle size and increasingly difficult to source away from Maui. Like Coral Sand, Maui Dunes Sand will compact and harden but, under the right conditions, it will take a few years. This characteristic difference is related to its "High" calcium content. If this sand can be placed at depths of 20-30 inches it will drain and remain playable for several seasons. However, sizing of the current supply is very fine, with 80% of its particle size retained on or passing #60 sieve (0.250mm).
The least available is, Oahu's 'Inland Beach Sand'; better known as Mokuleia Sand it historically is the most popular sand for bunkers. Like the other local sands sources Inland Beach Sand was once our coral reef system on the North Shore of Oahu. But unlike our other two sources this sand is the most stable of the Calcium Carbonate sands. It contains the "Lowest" amount of Calcium and as a bunker sand will remain playable, un-compacted for many seasons. Our best example of its long working life is the recent bunker renovation at the Waialae Country Club. The sand removed after nearly twelve years was Mokuleia Sand and when removed much of the sand was reused in other off course applications. But, like all Calcareous Sand over time, moisture and pressure the Mokuleia sand will compact as well.
Insure the Quality of Your Local Sand
Regardless the use, of your preferred calcium carbonate/calcareous sand it is most imperative the sand you source is a Washed product. Insuring unwanted fines, organics and organisms do not enter your golf course environment.
Silica Sand
Can there be one ideal bunker sand for the Hawaii golf market? Since 1972 Hawaiian Cement has been importing silica sand from all over the South Pacific initially used in the manufacturing of Cement over the past 20 years we have continued to import silica sand for golf specific applications. In our search for the Ideal bunker sand we pay close attention to the silica content of our sourced sands, as well as, its gradation, angularity and crusting characteristics. Silica sand at 97 % or greater silica content is highly stable and makes a high quality top dressing material and has shown to be above average performance as bunker sand with a typical penetrometer value 2.3-2.4 for G-3 & New Castle Blend.
The Ideal Bunker Sand Blend?
We believe we have found a better sand alternative for bunkers and possibly the Ideal bunker sand for most golf courses.
Over the past several months we have been working with the Head Professional & Superintendent at Olomana Golf Links on Oahu. Olomana has traditionally placed coral sand (Natural Beach Inland sand or Greenside Bunker Sand) into their bunkers. Over time the sand compacts and become unplayable for traditional bunker shots. Like most courses in this economy bunker maintenance is a lower priority on the daily jobs list; in this case they only get hand racked. Last November, on our recommendation, they agreed to experiment with blending the
Hawaiian Sandman
G-3 Silica into one of their more problematic bunkers.
They added approximately 1-2 tons of G-3 silica sand into a green side bunker on hole #9 and using a tiller blended the new sand about 4 inches deep into the bunker. Two days later a rain event filled all bunkers on the course with standing water, except this newly blended bunker. Ganin Asao, Head Golf Professional stated "it's the only bunker on the golf course that drained; it's never done that before". Since that time Olomana has continued adding G-3 Silica to other bunkers. Now in late July the original bunker is still quite playable with no change in maintenance protocol.
The Ideal bunker sand would produce a penetrometer value of 2.5 or greater. We believe the approach taken by Olomana is a model for courses that currently have Coral Sand Bunkers. This custom blending approach is a cost effective alternative that will prolong the working life of your bunker during this difficult business climate.
The Makena Resort Beach & Golf Club recent analysis of our Native Sand (Calcium Carbonate) and G-3 silica blend reported a bunker penetrometer of 2.6 by one certified golf testing company and 3.3 by another. This bunker blend is two parts silica sand and one part Native Sand to color match native areas on their property.
We believe blending silica with, in-place, calcareous sand can create the Ideal bunker sand for your environment. Olomana estimates their custom blend may be 50/50% with silica sand but your requirement may be different.
Mixing silica sand into your calcareous bunker sand will give you a stable non sticking sand particle that will not compact and will dramatically reduce the compaction characteristic common in calcareous sands. Benefits include improved drainage of your existing bunker complex, reduced maintenance and labor hours on bunkers and reduced cost to upgrade your aging bunkers and improve the possibility of maintaining the color of your existing bunker treatment.
There may not be one bunker sand that is Ideal for all Hawaii's courses, but this blend in-place approach may result in the Ideal bunker sand for your property.
Features of a Custom Blend bunker Sand:
Control firmness of your bunker face and fairway bunkers
Penetrometer; create the ideal value for your clientele
Customize your bunker blend for your climate
Control crusting characteristic
Make maintenance easier
Benefits of a customer Blend Bunkers Sand:
Greater Player, Member, guest enjoyment
Prolong working life of your existing bunker complex
Improved aesthetics of bunker complex
Cost effective approach to improve bunker condition
Lower labor cost to maintain bunkers
Bunker play lessons for teaching staff