It's a walk in the park for golf groundskeeper Kono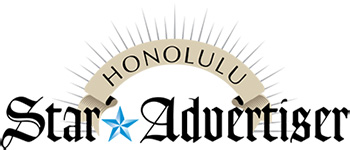 Curtis Kono has an intriguing way of describing the rarefied air at The Masters. It is colored by his life as a horticulture major, Manoa Cup champion, keeper of the greens at one of Hawaii's most venerable golf courses and pineapple carver extraordinaire.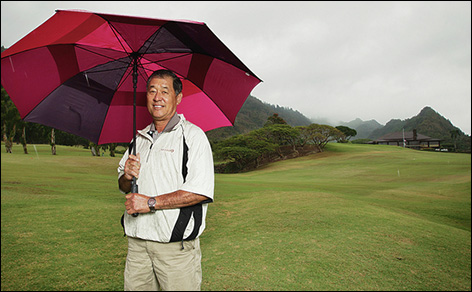 By Ann Miller Special to the Star-Advertiser
Kono calls Augusta National "a walk in the park." Or, in his case, a ride on the mower as the sun comes up and goes down every April. He will serve as a volunteer greenskeeper for the 17th time at next week's Masters.
Kono says the same about all the classic courses he has visited. The elite list includes a British Open at Royal Birkdale and U.S. Open at Shinnecock. He worked both as a volunteer with the grounds staff and will add Hazeltine later this year when he helps prepare it for the Ryder Cup.
He will be one of 30 "out of state/foreign" volunteers in Minnesota. He is one of 75 at Augusta, getting called in the first time he inquired in 2000, with his impeccable resume helping him leap over a waitlist that is reportedly thousands long.
"I've always enjoyed experiencing different venues and playing top-ranked courses all over our country and the world," Kono explains. "I've been very fortunate that this game of golf has allowed me to meet a lot of good people and visit a lot of beautiful places over the five decades I've been connected with it. How gorgeous many of these places are … a walk in the park."

That walk apparently comes between mowing the fairways, always moving "from green to tee" with his crew each morning and evening.
There also is a morning shift manning the fairway bunker on the first hole. He sits just inside the rope holding the rake because, at Augusta, it just wouldn't look right lying on the ground.
"It's the first hole and they don't want that one bunker rake out," Kono says. "If the player hits in the bunker, as they leave the tee and start walking, we go out and drop the rake. Usually their caddie rakes. Then I watch all their second shots."
When that's done, he usually gravitates inside to hang out with staff and volunteers and get away from the crowds. They watch the tournament on TV and — at a course closed from the end of May to the end of September because of the heat and humidity — cool off.
Kono also has "Dole Duty."
Cold pineapple has become a part of Augusta National tradition over the past 15 years. Kono now brings 12 cases with him every year. Secretaries ice it each day, starting Monday, and hand over a special knife to Kono to do the "duty."
There is always cold pineapple in the lounge, thanks to the 1987 Manoa Cup champion, who was hired as Oahu Country Club's Superintendent 10 years later.
"A lot of people enjoy that. It's fresh, something different," Kono says. "It's going to be hard if I don't show up with them now. … I give a couple cases away to friends so I cut about 10 cases of pineapples. Toward the end of the week, with the acidity, I feel it on my fingers. But all these years, I haven't drawn blood."
Kono's most vivid memory of Augusta goes back to his first working visit in 2000. He was already a superintendent and never mowed fairways. He got nervous at the Sunday meeting when he found out that would be his assignment.
"I was the rookie," Kono recalls. "So at the end of the meeting I asked how to run the equipment. I didn't want to start out at 4:30 the next morning in the dark not knowing what to do. One of the captains asked me if I wanted to go out and practice that afternoon. I took him up on it.
"We went out on the course and joined the regular staff mowing fairways. That's when it really hit me. I started to drive up and I was thinking, 'Oh, this is No. 15 and I started to see players — Vijay Singh and Justin Leonard were practicing. I started mowing Amen Corner at No. 13 (home to 1,600 azaleas) and had a hard time trying to mow and look around."
The captain's kindness was not a rare occurrence. For all the problems The Masters has with diversity, Kono has never felt uncomfortable.
"Everybody is polite," Kono says. "In the south they have very good manners, social manners so it's a nice place to visit. I don't feel out of place."
He is so comfortable, last year he took his 88-year-old mother Annette, who still golfs weekly, for the third time. She brought homemade guava jelly for everybody.
"It's the little things money can't buy," Kono laughs.
He thinks every golfer should see The Masters, even if it is just once.
Every groundskeeper might want to come back 15 or 20 times.
"The quality of the golf course … they just set the bar," he says. "Everything is so detailed. The landscaping and quality of the turf. Everything is to the upper limit."
Including the pineapple.