From the GCSAA Website Chapter News
Two-day session provides superintendents the opportunity for learning, feedback and community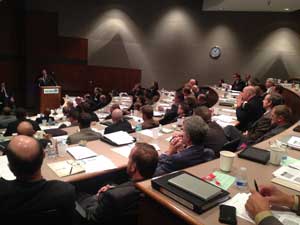 Lawrence, Kan. (Nov. 3, 2015) – More than 100 members from 90 chapters visited GCSAA headquarters last week to cover topics ranging from a final look at the revised members standards proposal, to a chance to hear from candidates nominated for the 2016 board of directors. In addition, delegates participated in constructive dialogue on association issues such as committee structure and marketing initiatives for the association's 17,500 members.
For some of the new attendees, it was a chance to learn more about their association.
"I now have a new appreciation for how the association is run and the true value that we receive by simply getting involved," said GCSA of New England representative Greg Cormier, a certified golf course superintendent (CGCS) and director of golf course operations at Nashawtuc Country Club in Concord, Mass.
Jake Snyman, golf course superintendent at the Palmer Lakeside course at Barton Creek in Austin, Texas, was equally impressed: "I got more out of this than anything I have done in the last 12 years I have been a member," said Snyman, a 40-year-old from South Africa who has been a superintendent at Barton Creek for three years and was in Lawrence representing the Central Texas GCSA.
Russ Dooge, CGCS, thought it was time well spent, too, even though he has been connected to GCSAA leadership as a chapter delegate annually since 1996.
Dooge, a longtime superintendent and now general manager with golf course management oversight at The Dunes at Maui Lani Golf Course, traveled nearly 4,000 miles from Hawaii for the opportunity to spend 48 hours talking with fellow members and GCSAA staff.
"We talked about member standards at my first chapter delegates meeting in 1997," recalled Dooge, a member of the Hawaii GCSA. "It is important. But what we are doing in advocacy for the profession and the golf industry as a whole is huge. That is something I can't do, and it helps me stay in business."
GCSAA President John O'Keefe, CGCS, gave an overview of the member standards proposal that will be presented for membership approval at the 2016 Golf Industry Show in February. That proposal, developed after more than a year of discussions with chapter delegates and other members, will slightly increase the education points needed for Class A renewal as well as modify the requirements for eligibility, which will continue to be based on a combination of formal education, experience and earned education points.
"While there was some discussion about what will qualify for service points in a strong education platform, I am pleased that we have the full backing and direction from our delegates to move forward," said O'Keefe, director of golf courses management at Preakness Hills Country Club in Wayne, N.J. "Class A member standards are important for defining who we are, both individually and collectively. They frame a member's professional identity."
In addition, GCSAA CEO Rhett Evans shared with delegates a brief snapshot of their association's priority programs, an overview of how the association has been strengthened in recent years, and a preview of plans for the 2016 Golf Industry Show in San Diego. There was also time devoted to a free-flowing Town Hall session.
Please CLICK HERE to Download the "CHAPTER DELEGATES MEETING OUTCOMES" Document
Please CLICK HERE to Download the full agenda of the 2015 Chapter Delegates Meeting