By: Jeff Shelley
Golf course architect Robin Nelson died November 19, 2012, after a valiant battle with ALS, Lou Gehrig's disease. He was 61.
Nelson was a longtime principal in the firm of Nelson & Haworth, which has offices in Singapore, Shanghai and San Francisco.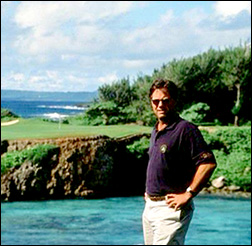 An environmental design graduate from Cal, Nelson began his career as a golf course architect in 1973, working with Robert Muir Graves and then Ron Fream. In a 2000 interview, Nelson described his design philosophy thusly: "My main idea is to let the site speak for itself, to take whatever the site has and transform it into a golf course, if at all possible. I hope to achieve the combination of variety, fairness, presentation and a challenge to the player."
He employed that principal around the world, designing courses in such far-flung places as Australia, Canada, China, Korea, Malaysia, Myanmar, Taiwan, Thailand and Vietnam. Among his well-known layouts are Mauna Lani in Hawaii; Bali Golf & Country Club; Shenzhen Golf Club in China; Ravenwood Golf Club in New York; and The Dragon at Gold Mountain in California.
He was named Golf Course Architect of the Year in 2000 by Boardroom Magazine, and his courses received numerous "Best of" citations in American and international publications.
It was in 2003 at The Dragon – now called Nakoma Golf Resort – where I met Robin. Also at that course during my stay was an associate of Nelson's, Mark Miller, who remains a good friend of mine today. (See below for Mark's memories of Robin.) That trip to northern California resulted in three stories – Tale of the Dragon – Part 1, Tale of the Dragon – Part 2 and Tale of the Dragon – Part 3.
As I noted in Part 3 of that series, The Dragon's original developers, Dariel and Peggy Garner, hired Nelson because of his knack for crafting "environmentally-friendly" courses. In addition to preserving as much habitat and natural areas on the rugged, mountainous site northwest of Reno, the owners' mandate for Nelson and Miller was also to create one of the toughest courses in California.
I played one round with Robin. He and I were of the same ability – semi-solid 10 handicappers who hit the ball, then hit it again. We talked about our daughters, both then in their early 20s and doing well. Earlier that year Robin was diagnosed with prostrate cancer, but all signs were positive when we played golf in fall '03.
The Garners – since divorced – weren't serious golfers and some of their ideas for the course were, let me put this politely, nutty. As an example of their zest for Robin to create the "toughest course in California," Dariel wanted him to build a tee that was so severely tilted its front end would be pointing nearly straight up into the air. Robin refused the advice.
They also insisted on preserving many trees, including those in fairways. Also in our foursome that day was course superintendent Rich Sholes. On one hole that Robin was unhappy about because of its penal, overly-treed nature, he turned to Sholes and said, "Let's go get a beer and your chainsaw." That remark was typical of Robin's droll but great sense of humor.
Mark Miller's Memories
I asked Mark to put together some thoughts about Robin, who gave Mark his first job in the golf-architecture business 23 years ago. Mark later left the company and started his own firm, Miller Design Golf Course Architecture, and after a stint in Seattle now resides in native Colorado. Mark will be attending Robin's funeral services in the Bay Area on December 7.
In his own words, here's what Mark said about his good friend and the fellow responsible for his entry in the golf-architecture trade:
When I had the opportunity to interview, and was hired by Robin in 1989, I was blessed with incredible fortune. I hit the jackpot. He has been an exceptional best friend, an outstanding mentor and a hugely positive influence on my life and career.
It was quite a ride working with him. We were extremely busy and it was never boring. We were constantly in the air, traveling throughout the (Hawaiian) islands, China, Korea, Malaysia, Indonesia, Philippines, Japan, Thailand, Guam, Alaska, the U.S. Mainland and all points in between. At one point we had five full-time golf course architects, a staff of assistants and 40 active golf-course projects on the books.
There were many things that I admired and learned from Robin in the 10 years I worked with him. But one attribute I respected most was his unwavering love and passion for golf and, more importantly, for the profession of golf course architecture.
When I started working for him I was a total rookie as a designer and a golfer. He instantly took me under his wing and mentored me, not as a boss, but as a friend and fellow golf enthusiast. When I wasn't learning from him in the design studio, I was learning in the field, and the "field" was the golf course.
I absolutely loved to play golf with Robin, and we played many rounds together over the years – including a trip to Ireland, and multiple trips throughout the Hawaiian Islands, Asia and Pacific Rim countries, as well as America. We made a point to play golf whenever possible, and during those times I would soak up anything and everything I could. Robin was always commenting on bunker styles, the nuances of a course layout, the subtleties of what makes a good green, or the insight into the strategy of a specific hole. It didn't take long for his passion and enthusiasm to rub off on me.
Robin had a laidback manner and an equally easygoing but clever sense of humor that was very contagious as well. He had an easy laugh, and we laughed a lot together. That was naturally who he was, and I believe his endearing manner and sense of humor is the primary reason why he was so successful in life and in business. Friends and clients liked and trusted him and simply enjoyed being around him.
Robin was a talented and prolific golf course architect. He was hired by Belt Collins, a multidisciplinary design firm in Honolulu, to head up their newly formed golf-design department in 1983. The subsidiary, Nelson & Wright (later named Nelson & Haworth), was formed and soon gained recognition throughout Hawaii and the Pacific Rim as brilliant golf course architects. They became noted for incorporating the native environment and existing cultures into their golf course designs, and eventually began receiving numerous awards for their brand of architecture.
Here are a few of my favorite stories of Robin:
• During my last day of the interview process, Robin and his partner Rodney Wright asked me if there was anything else about myself that I would like them to know. I said "Well, let's see, I have a dog that can go to the refrigerator and get a beer." They both looked at each other, and then back at me, and at the same time said, "You're hired." True story, so I guess my dog had something to do with my career as well.

• Robin was driving four of us out to the North Shore of Oahu to play a new golf course that had recently opened. We were all excited to play it but were running late for our tee time. I remember we pulled into the parking lot, jumped out almost before the car was stopped, opened the trunk and began frantically putting on our shoes, grabbing our bags and rushing off to check in. We ended up making it by the skin of our teeth and had a great time playing 18 holes. When we were done we stopped and had a drink and nonchalantly headed back to the car. When we got there it looked like the car had been broken into. Both doors were open and the trunk was open . . . but we soon realized that none of us paid attention to shutting anything in our haste to get to the course and we had left both doors and the trunk open for the entire day.

• Robin and I were working on the Maui Lani course on the island of Maui. The course had a lot of kiawe trees (like mesquite) that were being cleared. A 50-foot-wide swath down the middle of the fairways were the only thing cleared so far, and it was our job to mark the final clearing limits on the edges of each hole. These were large trees and were laying at the edges of the cleared swath. We had to crawl over them to get to the outside edge and mark the final clearing limits with orange tape. These trees had huge thorns and we were just getting torn up climbing over and under everything. We finally got sick of it and started trying to figure out a better way. One of us, I think it was Robin, came up with the brilliant idea of getting paint-ball guns.

So we got one and would walk the cleared fairway strip in the middle and shoot an orange paint spot over the downed trees to a tree on the outside, thus marking it as the clearing limit. It was genius. So we proceeded to buy a couple of guns, and all the paint balls on the island of Maui. We spent the next day (a Friday) walking the 18-hole course shooting the clearing limits. It was a blast. We got pretty accurate and finished the job in one day. That weekend a torrential rain blew through the islands. Monday morning we got a call that all the paint had washed off the trees. Tuesday morning we were climbing through the thorny Kiawe trees again.
George Fuller's Tribute
Another good friend of mine, fellow golf writer and frequent Cybergolf contributor George Fuller, wrote the following tribute to Robin. It will appear in the January 2013 issue of Troon Golf & Travel (), of which George is the editorial director.
"When a wise man dies, a library burns." – African proverb
My friend Robin Nelson passed away on November 19, 2012. A golf course architect by trade, and an accomplished one, his passion for golf was matched only by his love of his family: his wife Aniko, and daughters Taylour and Briana. All three of those strong women were with him to the end.
A prolific and thoughtful correspondent with friends, media and on discussion boards regarding golf architecture, he had been struggling for the past couple of years with a nerve disorder that at first doctors could not pinpoint the origins of, and for which they seemed to have no cure. Robin would write long emails expressing his frustrations, hopes and eventually his resignation.
In January 2011 he wrote to me: "I have been afflicted with some weird nerve disorder that has affected my speech. It started over a year ago and has steadily gotten worse. I have trouble saying certain words – like I've had four glasses of wine."
By the end of May that year, doctors finally concluded the worst: Robin had ALS, Lou Gehrig's disease. A cruel deterioration of the body, but not the mind, followed. For someone who spent his life on golf courses and construction sites, it must have been very difficult to accept. Gradually, but steadily, he became unable to talk, walk, stand or use his arms and hands. He became wheelchair-bound.
In October, he emailed me that he was in a hospice and that he was in the unique position of being able to write his own obituary. But by now he could no longer type on a computer. The last few emails he sent were laboriously written one slow letter at a time with one thumb on a cell phone. And then, in mid-November, he went silent. One very bright and beautiful voice was missing from my life and from the lives of those who knew and loved him.
The main body of his work as a golf architect was completed in Hawaii, Guam, the Philippines and Asia. He designed or remodeled so many courses in Hawaii that he was called "Mr. Hawaii" in many magazine articles. Among his best and most recognizable courses in the islands are Mauna Lani North, Royal Kunia, the Dunes at Maui Lani and Puakea.
But as much as I enjoyed playing his courses and the discussions we had about golf, it is Robin's humor and indomitable spirit that I will remember and miss the most. Even at the end, when every muscle in his body had betrayed him and he was only able to communicate with that one working thumb, I heard no bitterness or anger in his words. A wry, ironic humor, yes. But no self-pity about his situation.
One mutual friend who had seen him just a couple of months before his passing said Robin couldn't speak, but that he had a big smile on his face and the lights were on in his eyes. That's the Robin I knew. When life throws curveballs – as it often does – smile and move on.
Golf is blessed with many good people. Robin Nelson was one of the best I've ever known.
A memorial service will be held Friday, December 7 at 2 p.m. at the Outdoor Art Club, 1 West Blithedale Avenue in Mill Valley, Calif. In lieu of flowers, donations can be made to the Robin Nelson Fund. At Robin's request, the donations will benefit children in need or those participating in Little League and the Junior Golf Association.