Aloha Members,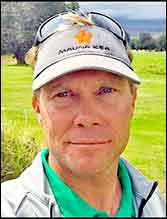 I hope this letter finds each of you healthy and in good spirits during this difficult time, an unprecedented time in our lives that has left many of us scratching our heads wondering what will come next. The current shutdowns and quarantines have caused us to change policy and procedures daily, but this is generally what we do in our business. Take a deep breath, reflect, and now is the time for us to make the best decisions we can with what information is available.
The HGCSA board has been busy over the last few days reaching out to mayors on each island regarding how to proceed with golf maintenance, given many clubs have made the decision to close. First, I would like to make sure you are communicating with your owner, stakeholders, members, or general manager regarding the best practice for your property and staff. Secondly, the response we have received from the mayors' offices is that golf maintenance is a critical trade that can continue. They ask that we continue to follow the CDC guidelines on social distancing, limiting numbers, and continual hygiene. We need to maintain our product with limited contact and hours. I have personally talked with many of you and there are many great plans in place. Don't hesitate to pick up the phone and call your neighbors to compare plans and strategies.
Since the economy is slowly grinding to a halt and revenues are at an all-time low, the HGCSA Board has voted to waive dues for the 2020 year. Along with waiving dues we have voted to postpone the annual golf and seminar in Oahu scheduled for August. The timeline is unknown as to how long the COVID-19 virus will require our day-to-day operations, travel, and gatherings to be delayed. We will regroup once things have settled to plan a meeting and golf for the spring of 2021.
This is a great time for everyone to download the mobile app (Android, Iphone) that Russ has set up for members called Wild Apricot. The app will allow each member to update their profile: Company, Title, email, and address information. You will need to set up a log-in and password and then reply to an email. If you know of any member who is not getting our emails, please share the app.
Scott Main
President HGCsA
"There is no better than adversity. Every defeat, every heartbreak, every loss, contains its own seed, its own lesson on how to improve your performance the next time."– Malcolm X