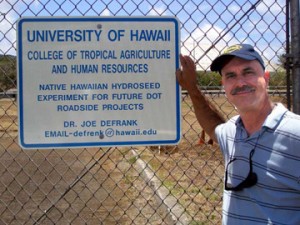 In August 2010, Dr. Joe DeFrank in cooperation with Kaipo Bernie and his skilled team of landscape professionals of the Honolulu City and County Parks and Recreation Department, started a weed cleanup of the Aiea baseball field on Oahu, Hawaii. The presentation below contains Dr. DeFrank's presentation at the Pacific Agriculture Sales and Service Turf seminars and trade show at the Pearl Country Club in Honolulu. The presentation was made on January 20, 2010 and contains a description of all the fertilizer and herbicide applications made over a 4 month period from August to the end of December, 2010.
CLICK HERE to play the video clip of the presentation
(runtime: 58 min:10 sec.)
Prior to viewing the video content, the audience should download the seminar handout to better follow the detailed discussion of procedures and results and help incorporate the materials employed and their rates of application into their own operations.
CLICK HERE to download the seminar handout of the presentation
For more information on this presentation contact:
Dr. Joe DeFrank
Professor of Weed Science – University of Hawaii Department of Tropical Plant and Soil Science
email:[email protected].