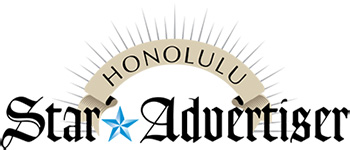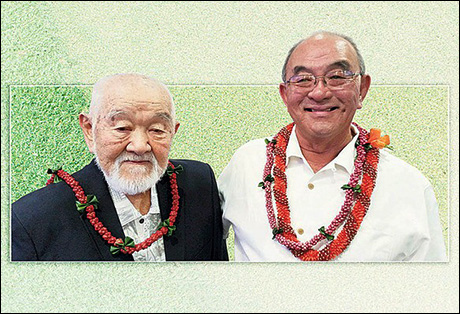 Hawaii Golf Course Superintendents Association members vote for their superintendent of the year. The HGCSA board chooses its lifetime achievement award winner.
Kama'aina who have golfed at Turtle Bay and Kapalua, and folks who have watched tour events on those courses in the midst of breathtaking views, probably aren't surprised at the most recent selections.
Short Honma, who gave up farming and ultimately helped open all three Kapalua Resort courses, was honored with the lifetime award.
The 91-year-old followed his son into the golf business. Michael Honma, who has hosted 16 tour events at Turtle Bay since he started there in 1982, is superintendent of the year.
Both have seen Hawaii golf mature and modernize dramatically in their careers and played a primary role. Not bad for a bunch of farmers.
"I guess the green thumb is in our genes to grow plants so it went from farming to golf maintenance," Mike says. "Got it from our grandparents, who migrated from Japan to farm in Volcano."
Short and his family worked their 60-acre vegetable farm there. Mike moved on first, taking a job at Volcano Golf Course soon after graduating from Hilo High in 1969.
His new job paid him $1.35 an hour — 10 cents more than his wage at Honolulu Sporting Goods. Even better, it was outdoors and he could work in bare feet. An exceptionally sharp sickle served as his weed whacker then. He recalls cutting greens with a Toro walking mower that had a gallon of gas tied to the handle.
His dad, frustrated by the low prices paid for his crops, took a job as a laborer at Volcano after Mike was drafted in 1969. Mike's brother Dan did the same, then worked at Maui Country Club and Makena.
Now he is operations manager at Ka Lima O Maui, working with special needs adults who do — what else? — landscape maintenance. Sister Marlene has a farm in Kamuela called KoZen. She sells vegetables at open markets.
The family theme extends to superintendents in general. Klipper's Ryan Wood has a brother-in-law — Clint Talbert — at Nanea. Brothers Andy and Kimo Miekle are at Mililani and Mauna Lani.
All are in a position that requires them to educate themselves constantly. Superintendents have to keep up with changes in their industry, from turf to budgets, fickle weather and even more fickle people.
Mike Honma's consistency at Turtle Bay, particularly after working for four owners, leaves others in awe.
"It's kinda difficult to do on a day-to-day, month-to-month, year-to-year basis," Wood says. "Always dealing with Mother Nature and sometimes she don't like playing fair."
Travis Joerger, Turtle Bay's Director of Golf, talks about Honma "weathering many storms" since he started on the North Shore at age 32.
"He has met and surpassed many challenges," Hoerger says, "and has been instrumental in putting Turtle Bay golf on the map. While many things have changed over the years, he has been the one constant."
Like his father, Mike Honma rarely says no. If he doesn't know something, he asks or reads, and learns from mistakes, aspiring never to make the same one twice. He joined the Superintendents Association when it began in 1990 and was vice president early on.
"Education is ever evolving so it's a daily learning and self-training process, it never stops," he says. "There are many caps a superintendent has to wear. They have to be a dad, a mom, a therapist, a human resource, a lawyer, a mechanic, an inventor, a chemist, a farmer, a historian, an environmentalist, a secretary, to name a few. You need to be able to see and learn visually to succeed in this profession. I see many that cannot learn if it's not verbal. Plants do not verbalize."
His father is a little like that. Short, known for being direct and never wanting to talk about himself, retired from Kapalua in 1995. His ascent in the business was swift, going from laborer to crew chief at Volcano, then becoming superintendent at Sea Mountain before Kapalua convinced him to move to West Maui in 1974 for a "planned development."
He was in on the construction of the Bay Course that year, meaning both Honmas worked with Arnold Palmer. He started on the Village Course in 1978. Kapalua — and Honma — broke ground in 1989 on the Plantation Course, now home to the PGA Tour's Tournament of Champions.
Like Turtle Bay, Kapalua's setting is all but impossible to describe. You have to see it to believe it. Both Honmas know how blessed they have been.
"Ocean on the makai side and farms and pristine mountains on the mauka side, with flat glassy oceans during the summer and rip-roaring high surf in the winter," is Mike's description of his office. "Not many places have this setting."