Veteran certified golf course superintendent to assist GCSAA chapters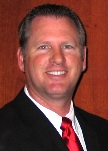 The Golf Course Superintendents Association of America (GCSAA) has selected Richard Pavlasek, CGCS, director of golf course maintenance at Gainey Ranch Golf Club in Scottsdale, Ariz., as the GCSAA field staff representative for the Southwest region of the country (California, Hawaii, Nevada and Arizona).
"Richard has a wealth of experience and knowledge," said GCSAA President James R. Fitzroy, CGCS. "He will be a great asset to our members in the Southwest region as we expand our field staff program."
To assist in the effort of serving members through chapters, GCSAA has continually added resources to facilitate an enhanced relationship between the association and its chapters, including the expansion of the GCSAA field staff program. Initially a pilot program designed to help chapters utilize GCSAA programs and services to a fuller extent, it received overwhelmingly positive feedback from chapters that participated in the program. Participating chapters reported greater connection with GCSAA, an enhanced ability to utilize GCSAA programs and services, and access to additional resources to advance chapters in a strategic manner.
In expanding the field staff program, GCSAA divided its chapters into nine regions with plans to place a field staff representative in each. Having resident field staff resources on the ground will help chapters implement programs developed by GCSAA, and serve as a direct communication link back to GCSAA to share the successful practices chapters have implemented. The program is designed to be mutually beneficial for the association and its chapters.
Pavlasek is an 18-year GCSAA member and is one of only 1,700 active superintendents to hold the professional designation of GCSAA Certified Golf Course Superintendent. After serving eight years in the United States Air Force, Pavlasek earned a bachelor's degree in agronomy from Texas A&M University in 1994. He is a member of the Cactus and Pine GCSA, the North Texas GCSA, the Texas Turfgrass Association, and is a past president of both the North Texas GCSA and the Michiana GCSA.
Pavlasek got his start in the golf course industry as an assistant superintendent at Walden Golf and Country Club in Montgomery, Texas, from 1994-96. He was named the director of golf course maintenance at Knollwood Country Club in Granger, Ind., in 1996, where he initiated and implemented the Audubon Cooperative Sanctuary Program and negotiated a water rate agreement with five neighboring homeowner associations. Pavlasek returned to the Lone Star State in 1998 to take the superintendent job at Canyon Creek Country Club in Richardson, Texas, where he oversaw the construction of a new chemical storage facility, cart path and bunker reconstruction projects, and hosted three LPGA Futures Tour events.
In 2002, Brookhaven Country Club hired Pavlasek as director of golf course maintenance, where he oversaw a $1.6 million operating budget and staff of 52 for the 54-hole private facility in Dallas. He coordinated a greens conversion from bentgrass to Tifeagle bermudagrass, constructed several new tees, and hosted the annual Family Health Center Pro-Am with Scott Verplank, Andrew Magee and Brian Watts, while also serving as a regional superintendent for ClubCorp. Pavlasek moved to Scottsdale, Ariz., in 2006 for his last position at Gainey Ranch, where he oversaw three distinct nine-hole layouts, a $2.3 million operating budget, a greens conversion from Tifgreen to Tifdwarf bermudagrass on nine holes, annual overseeding of 114 acres, and a water management program involving effluent water with high salt levels.
GCSAA recently announced the appointment of John Miller, CGCS, as the field staff representative for the Great Lakes Region (Kentucky, Wisconsin, Michigan, Illinois, Indiana, Ohio) and Brian Cloud as the South Central (Texas, Oklahoma, Arkansas, New Mexico and Louisiana) representative. Cloud, Miller and Pavlasek join Ralph Dain, who is the field staff representative for Florida. GCSAA plans to fill the Northeast (New Jersey, New York, Connecticut, Rhode Island, Massachusetts, Maine, New Hampshire, Vermont, Ontario) and Northwest (Alaska, Washington, Oregon, Idaho, Utah, Wyoming, Montana, Colorado) regions in the fourth quarter of 2011; the Southeast (Tennessee, North Carolina, South Carolina, Georgia, Alabama, Mississippi) and Mid-Atlantic (Pennsylvania, West Virginia, Delaware, New Jersey, Virginia) regions in 2012; and the Central Plains region (Kansas, Nebraska, Iowa, South Dakota, North Dakota, Minnesota, Missouri) in 2013.
GCSAA is a leading golf organization and has as its focus golf course management. Since 1926, GCSAA has been the top professional association for the men and women who manage golf courses in the United States and worldwide. From its headquarters in Lawrence, Kan., the association provides education, information and representation to more than 20,000 members in more than 72 countries. GCSAA's mission is to serve its members, advance their profession and enhance the enjoyment, growth and vitality of the game of golf. The association's philanthropic organization, The Environmental Institute for Golf, works to strengthen the compatibility of golf with the natural environment through research grants, support for education programs and outreach efforts. Visit GCSAA at www.gcsaa.org.