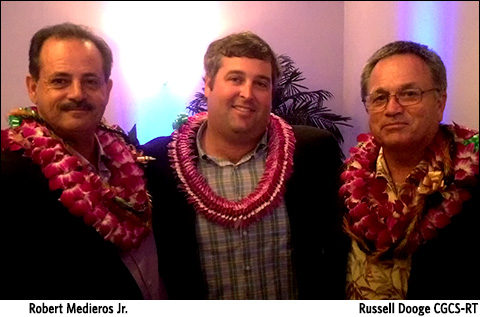 The 2014 Hawaii Golf Ho'olaule'a Awards Banquet was the setting for Russell Dooge CGCS-RT to receive the Lifetime Achievement Award and Robert Medeiros Jr. to be named the Golf Course Superintendent of the Year. These fine individuals were selected by their peers and the Board of Directors of the Aloha Section PGA as outstanding volunteers and experts of their craft.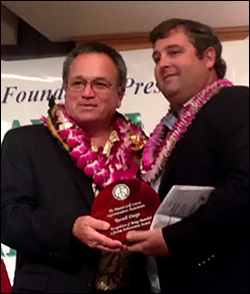 Russ is a 1975 graduate of UH Manoa with a degree in Horticulture Technology. He first served as a golf course worker at Mid-Pacific Country Club in many positions before assuming his first superintendent position at Kaluakoi GC on Molokai from 1977 to 1989. He subsequently served as GC Superintendent at Waikapu, Maui; Koele & Manele, Lanai; Sandalwood Maui; Kapalua and Kahili & King Kamehameha on Maui. Russell was one of the first GCSAA Certified GC Superintendent in Hawaii from 1985 to present. He has also served since 1996 to present as the HGCSA delegate to the national Golf Course Superintendents Association of America and served on numerous committees during his tenure.
Russ has also served as the HGCSA President on numerous occasions and has been a Association Director for nearly 20 years.
Russ has been the back bone of HGCSA during his tenure on the Board and has been our liaison with GCSAA. His contributions to HGCSA are immeasurable and have had a very positive effect in the growth and stability of the Association.
* * * * * * * * * *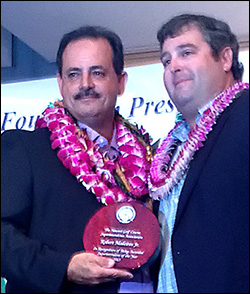 Robert Medeiros has been active in the golf course business for 27 years. He has been at Kiahuna Golf Club in Kauai for 19 years. During his tenure at Kiahuna, he was one of the first superintendents to start converting to seashore paspalum grasses. He also has been involved in numerous renovations at Kiahuna which has helped the Club not only financially; but, also environmentally. In 2005 Kiahuna was named the Water Conservationist of the Year by the Dept. of Water Works of Kauai. This past year Robert has helped the owners secure a PV system to help reduce cost for the entire club.
Today, Kiahuna is one of the most energy efficient as well as environmentally friendly golf courses in the state. All of these accomplishments are due in great part to Robert's leadership.