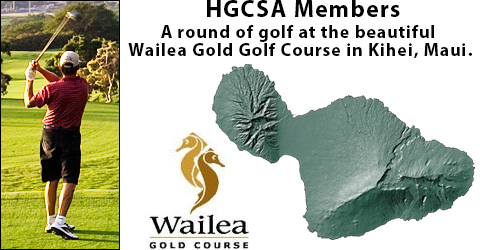 To All HGCSA Members,
We hope all of you are having a great start to your new year. As most of you may know, one of our goals is to improve the synergy and to re-energize the HGCSA membership State and Island wide. To ignite this effort, we had our first gathering of members graciously held by Golf Course Superintendent Ryan Wood at the Kaneohe Klipper Golf Course on Oahu this past January. The turnout was great and we hope for your continuous support as we move forward with this lost tradition.
We are glad to announce that on March 14th at 10:50 a.m. we are inviting all members to join us in a round of golf at the beautiful Wailea Gold Golf Course in Kihei, Maui. We would like to thank Golf Course Superintendent Mike Atwood for making this possible.
There will also be a small BBQ after golf for interested members. Please help us strengthen the "Ohana" of the Hawaii Golf Course Superintendents Association. Please be there on March 14th.
In an effort to secure the necessary tee times and to plan for the BBQ, please RSVP to Les Jeremiah, Jr. or Clarence Nakatsukasa by February 26, 2014.
Thanks again for your support of the HGCSA!
A message from the HGCSA Board of Directors.