CLICK HERE to view the gallery of Hawaii Golf Course Superintendents members at the 2014 GIS in Orlando
Photos by Les Jeremiah Jr. CGCS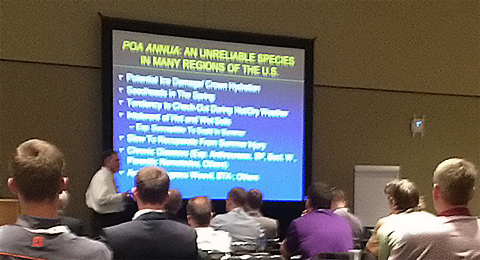 Final statistics from this year's gathering of golf course superintendents, owners and operators, architects and builders were on the rise across the board versus the 2013 event in San Diego. Total attendance was 14,147, an 8 percent increase over last year. In addition, the two-day trade show, Feb. 5-6, attracted a total of 6,845 qualified buyers (up 14 percent from San Diego), who enjoyed 184,500 square feet of exhibit space and 561 exhibitors – increases of 7 and 9 percent respectively, from 2013.

About the Golf Industry Show

The Golf Industry Show is an innovative trade show designed for the owners/operators of golf facilities and the professional members of the golf course industry. The event combines education, networking and solutions for golf course superintendents, owners, operators, architects, builders, equipment managers, appraisers and others.

Running concurrently with the Golf Industry Show were the annual education conferences for the Golf Industry Show presenting partners. Numerous educational sessions and seminars focused on solutions for operating in challenging times, environmental management, financial benchmarks, leadership and communications. Various networking opportunities were also available throughout the show for attendees to share and discuss solutions. In addition, exhibitors were able to conduct business with the leadership teams from golf facilities, as golf course superintendents and owners attend together to build and implement their business plans using the education and time with suppliers at the show.