Milton Nakagawa passed away at the age of 63, on March 18, 2014.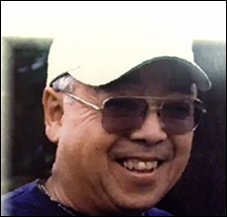 Milton was born and raised in Honokaa and graduated from Honokaa High School in 1968. Immediately upon graduation he enlisted in the United States Air Force and served 4 years at Lackland Air Force Base, Texas. Upon being discharged and with the G I bill in hand, attended the University Of Hawaii, Hilo. He graduated with a B S degree in Plant Pathology in 1978.
Milton immediately entered the Landscape business and after working at various landscape companies he landed a job at the Mauna Kea Beach Hotel as assistant grounds superintendent. After a few years at Mauna Kea he transferred to the Westin Kauai as head grounds superintendent. After a few years on Kauai and at the urging of the Vice President of Mauna Kea Properties he returned to Mauna Kea to become the assistant golf course superintendent.
Milton felt the need to learn the game of golf and took many lessons to become proficient at the game and to better relate to what he was doing in maintenance and the game. He became an avid golfer playing once a week with friends. His greatest enjoyment was when he was invited by Bruce Heymanson to play 9 days of golf in Australia, playing many of Alister Mackenzie's designed golf courses.
Milton always felt the need to increase his knowledge on turf management. He took every opportunity to participate in the many continuing education courses offered by the GCSAA and the many turf grass seminars.
In 1988, Milton assisted with the construction of the Hapuna Golf Course and became Golf Course Superintendent in 1991. In 2002, he assumed the superintendent position of both Mauna Kea and Hapuna golf course.
In 2008, Mauna Kea underwent a major renovation with Reese Jones as architect. Milton served as project coordinate overseeing the various contractors on the project. Upon completion, a major change in management occurred at the golf course and Milton left to pursue other opportunities. His only regret was not being able to see the grass grow in to maturity. He also regretted not being able to control an invasive grass that became established. He had worked so hard to control the grass and had a good handle for a control.
After 18 months Milton was approached by Mauna Kea Properties to return to the resort to manage a newly developed water company. He single handedly developed the water company from scratch supplying water to the golf course, hotel and the various development throughout the resort.
Milton fell ill early this year and was finally diagnosed with stage four Pancreatic cancer. He passed away on March 18, with family and friends at his bed side.